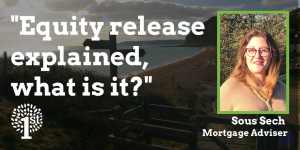 Equity release explained, "what is it?" – by Soussan Sech – mortgage adviser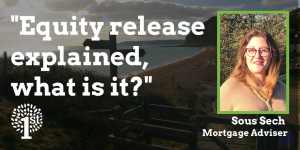 Equity Release Explained, "What is it?"
Equity release is a financial arrangement that allows a property owner to use funds (cash or the equity) from the property, while still living inside. Equity release products are normally only offered to those over the age of 55 and are often used to fund later life costs.
What is equity release useful for?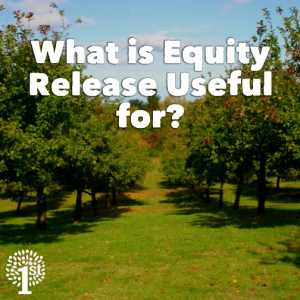 Equity release pays a regular income or lump sum and can be used to fund later life costs such as:
Providing a supplementary income in retirement.
Paying for ongoing care costs.
To fund home improvements.
To pay off an existing mortgage.
Different types of equity release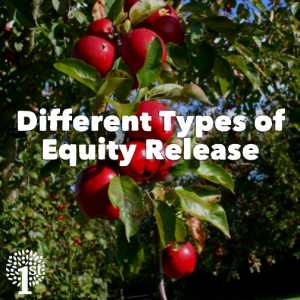 There are two main types of equity release currently offered on the market: lifetime mortgages and home revision plans. A RIO mortgage, (Retirement Interest Only Mortgage) is considered separate from equity release and it requires interest to be paid throughout the mortgage.
Lifetime mortgages

A lifetime mortgage is where a mortgage is taken out and a lump sum is paid for a percentage of the property value. The debt is paid back when the occupant goes into care, dies or sells the property.
Most importantly:
No regular payments are required to be made.
Where no regular interest payments are made interest is added to the debt and it grows over time.
The drawdown of funds can be phased meaning interest is only charged on the sum taken.
You can read more about lifetime mortgages in my article here.
Home Reversion Plans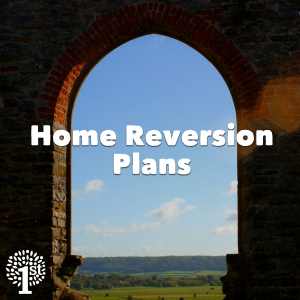 A home reversion plan is where the home, or part of it, is sold to the reversion provider (so no mortgage is taken out). A lump sum is paid or regular payments made to the owners. The owners can live in the property until they die or go into care under a lifetime lease. They are considered high risk products. You normally do not receive anything near the market rate for the property.
Most importantly:
No regular payments are required to be made.
They are considered to be best suited for those who are over 70. MONEY ADVICE SERVICE
Depending on the option taken you will no longer own all or part of the property
RIO Mortgages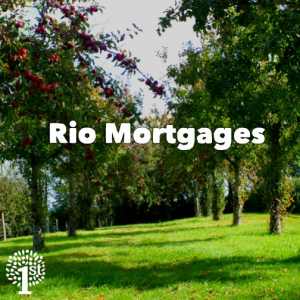 A RIO mortgage is a retirement interest only mortgage. They may be helpful for homeowners who have interest only mortgages and debts; currently they allow clients to extend the term of the interest only mortgage until the end of life, they sell or go into care.
Most importantly:
Regular interest payments need to be made.
The debt does not grow over time.
Remember your home may be repossessed if you do not keep up repayments on your mortgage
You can read more about RIO Mortgages in my article here.
Some points to keep in mind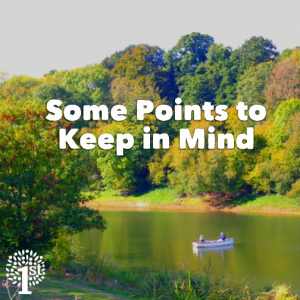 Equity release can seem complicated; here are a few key points to keep in mind:
The majority of equity release providers are members of the Equity Release Council and they are bound by a strict code of practice
These members provide what's called a no-negative-equity guarantee. This means that under a lifetime mortgage your total debt is guaranteed to never be more than the value of your property and won't be passed on to your family.
Equity release products can be more expensive than regular mortgages.
The money you receive could impact your state benefits.
They can be difficult to unravel if you change your mind.
The Money Advice Service offer a good overview of equity release here.
Your adviser must examine whether the benefits to you outweigh any adverse effect on:
-your entitlement (if any) to means tested benefits
-your tax position (for example the loss of age allowance)
Your adviser must consider if any alternative methods of raising the required funds would be more suitable
You should seek independent legal advice before you enter into a final commitment and to have the legal contracts explained.
As equity release is a financial arrangement that allows you to release property equity, all sales must be advised unless the customer meets criteria necessary to pursue an execution only route. At 1st Financial we encourage clients who are interested in effecting an Equity Release arrangement, to include their family/beneficiaries in discussions.
If you have questions concerning equity release, please contact us. We do not provide advice regarding home reversion plans.
 1st Financial Group is authorised and regulated by the Financial Conduct Authority
 We offer no obligation initial meetings at our cost.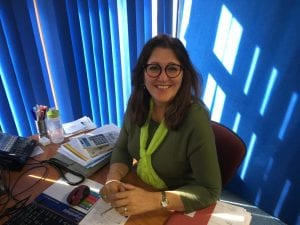 Soussan Sech 
Mortgage and Equity Release Adviser
Soussan has worked in the financial service industry for over 20 years mainly as a mortgage adviser. She loves nothing more than spending time with her children (and 2 grandchildren), long walks, cycle rides and holidays in the sun.
Our Head Office on Prockters Farm has ample free parking and is easy to get to! When looking for your mortgage, protection or financial advice, contact 1st Financial Group.
Route
 Mortgage and Financial Advisers, whose office is close and can come to you.
Mortgage and Financial Advice by 1st Financial Group. Across-the-Market mortgage brokers and Independent Financial Advisers in Somerset.
Some of the latest news from 1st Financial Group.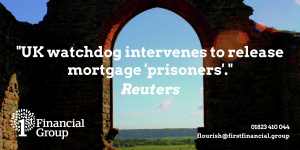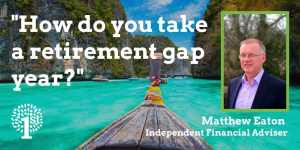 1st Financial Group is authorised and regulated by the Financial Conduct Authority.