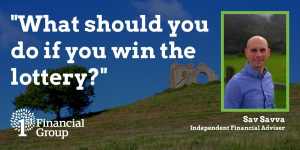 Lottery Wins and Unexpected Fortunes is a article about unexpected lump sum investing written by Sav Savva Independent Financial Adviser.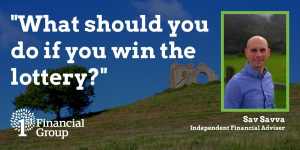 Congratulations, you have just won the Lottery! All your money worries are over…or are they? Most people will not win a lottery jackpot, but many of us will have to decide about what to do with a capital lump sum at some point in our lives, either from an inheritance, pension or other means. Here are some basic principles to keep in mind:
Reduce Debt
Paying off debts early can save you a significant amount in interest payments over the long term. Credit cards and overdrafts are normally the first to be paid off as they have the highest interest rates attached to them. You may then wish to consider personal loans, car loans and mortgages. A word of caution though: remember to take into consideration early-repayment charges before deciding to clear debts before they are due.
Savings
It is prudent to have access to funds in the event of emergencies. We generally suggest the equivalent of 3-6 months' income for this purpose.
Pensions
Your pension is what will help to look after you financially in later life. Early contributions can help grow your final balance. There can also be beneficial tax opportunities to pension contributions of which you can take advantage. There are some restrictions to pensions and you will not be able to access them until you are over the age of 55: this rises to 57 in 2028.
Investing
When investing, make sure you are making use of your tax allowances by using tax wrappers such as ISAs. However, ensure you are comfortable with the investment risks associated with the potential return offered. An adviser should always assess your attitude to risk, capacity for loss and help select investments that match it. Many investments are designed to be long term in nature and cashing them in early can reduce the potential growth and value paid out. You should always remember that the value of investments (including property) and the income derived from them may go down as well as up.
Gifts
For many, helping family and friends (with houses, debts and education costs) is something they wish to do when coming into large sums of money. Just be aware that there can be inheritance tax implications for many types of large gifts to friends and family so make sure you discuss this with your financial adviser.
Take Financial Advice
1st Financial Group Ltd are financial experts and can help you.
Call us to make an appointment to discuss your personal needs or Get Started today.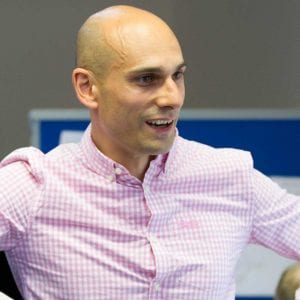 Sav Savva 
Independent Financial Adviser
Sav is a real people person with great experience in interacting with people, which he has developed over the course of his career. He moved to Somerset from London and is a family man with a passion for health. You can find him often playing tennis with his daughter, running at local races or watching the latest healthy eating TV programme.
Lottery Wins and Unexpected Fortunes is an article by Sav Savva Independent Financial Adviser
The value of investments (including property) and the income derived from them may go down as well as up.
  1st Financial Group is authorised and regulated by the Financial Conduct Authority
The Financial Conduct Authority does not regulate Inheritance Tax Planning